More than 5000 beauty salons buy our products every month
FORMALDEHYDE & ALDEHYDE FREE

30-Day Money-Back Guaranteed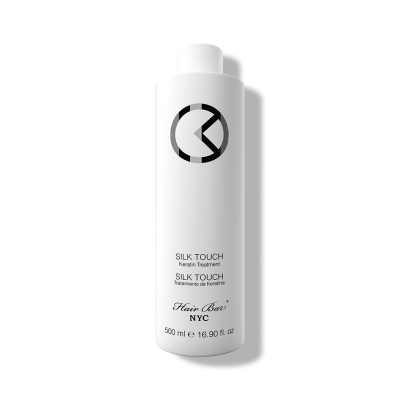 More than 5000 beauty salons buy our products every month
Worldwide shipping. All goods are in stock.
We guarantee high quality of goods. 30 days return policy.
Amino acids, hydrolyzed wheat protein & surfactants derived from olive oil.

Shampoo that clarifies and recalibrates basic pH levels of the hair, which helps open the shaft of the hair to facilitate the absorption of the Silk Touch Keratin Treatment. Enriched with active ingredients that nourish and repair, such as ceramides, keratin, collagen and Pistachio oil, it helps to restore vitality to the hair structure.

Silk Touch Natural Keratin Treatment uses a blend of organic amino acids, sugars, cellulose derivatives and plant proteins to modify the hair fiber and leave it smooth and stable for long periods of time, including an impressive reduction in volume, without damaging the keratin disulfide, salt or hydrogen bonds. It also reduces water absorption, protecting hair from humidity. The product contains no allergens, formaldehyde or other harsh chemicals. All of the ingredients are found in everyday cosmetic products, and many of the ingredients are used in dietary supplements. Volume reduction is exceptional and hair is left bright, easy to comb and ever so soft to the touch. This treatment also allows for very easy styling by cutting down blow-drying time and assisting in maintaining heat styling.

ALL NATURAL & FORMALDEHYDE FREE
SILK TOUCH KERATIN LASTS UP TO 5 – 6 MONTHS
Silk Touch Natural Keratin Treatment is a complex of botanical and organic plant extracts mixed in a perfect balance. This formulation provides significant frizz control, shine and smoothness, as well as a reduces curl and volume, in order to achieve excellent results while nourishing and strengthening the hair fibers. This treatment guarantees shine, softness and visibly healthy hair. Recommended for all hair types. Specific treatment to smooth and reduce the volume of curly and frizzy hair.


FORMALDEHYDE & ALDEHYDE FREE

30-Day Money-Back Guaranteed